EIKON #87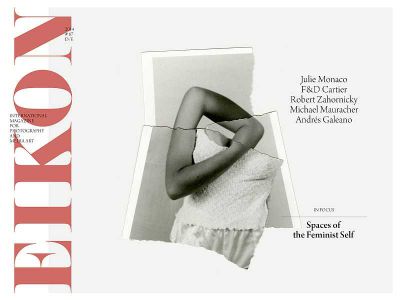 Artists | F&D Cartier | Andrés Galeano | Michael Mauracher | Julie Monaco | Robert Zahornicky |
Contributors | Robert Ayers | Thomas Ballhausen | Simon Bowcock | Andrea Gnam | Rahma Khazam | Peter Kunitzky | Katharina Manojlović | Sebastian Müller | Gislind Nabakowski | Christina Natlacen | Ute Noll | Gerald Piffl | Florian Rainer | Michael W. Schneider | Abigail Solomon-Godeau | Felicitas Thun-Hohenstein | Claudia Weinzierl | Peter Zawrel | Margit Zuckriegl

Languages | German / English
Dimensions | 280 x 210 mm
ISBN | 978-3-902250-76-6
76 pages

Price: € 14,00 (incl. 10% VAT)
Online Order >>>
Content
PORTFOLIO
F&D Cartier | Ute Noll
ANDRÉS GALEANO | Robert Ayers
MICHAEL MAURACHER | Christina Natlacen
JULIE MONACO | Andrea Gnam
ROBERT ZAHORNICKY | Peter Zawrel
ARTS & STUDIES

JASMIN EDELBRUNNER
IN FOCUS: SPACES OF THE FEMINIST SELF

SELF-PORTRAIT - SELF-REPRESENTATION - SELF-TIMER. Felicitas Thun-Hohenstein in Conversation with Abigail Solomon-Godeau | Felicitas Thun-Hohenstein

FORUM
10 years of EMoP: Photography, History and Memory | Gerald Piffl
AUSSTELLUNGEN
BLOW-UP: Antonioni's Classic Film and Photography | Claudia Weinzierl
CONNECTING SOUND ETC. Cable Works, Cable Sounds, Cables Everywhere | Rahma Khazam
PUNCTUM | Margit Zuckriegl
JOAN FONTCUBERTA. Stranger than Fiction | Simon Bowcock

Editorial
Defined as "a photograph that one has taken of oneself, typically one taken with a smartphone or webcam and shared via social media" (Oxford English Dictionary), the "selfie" has become an indestructible part of today's common (anti-)culture. Characteristic features are a usually amateurish composition, an unfavorable angle for the shot and ineffective lighting, which means that it contradicts practically all the criteria for professional photographic portraits; it's not surprising that most of the protagonists are teenagers, who just make a quick snap of themselves in the bath, in their room or in a dressing room.
But to conclude from this that selfies are a totally insignificant pastime for growing youngsters might well be to judge too quickly, for, in particular, the way young women, who produce the majority of such images, present themselves to the camera and thus to the world in general should make one stop and think: is the purpose of the lascivious, almost unclothed pose to confirm one's sense that one is attractive within one's sexual identity? Or is it not rather the case that these stereotypes demonstrate how much the point of view is determined by male ways of seeing—and that the female is objectivized in this way?
A reason to have a close look at the self-representation of women, specifically artists, in historical terms: Felicitas Thun-Hohenstein, the curator of Sphären des feministischen Selbst: Selbstportrait—Selbstdarstellung—Selbstauslöser (spheres of the feminist self: self-portrait—self-presentation—self-timer) and therefore the "focus" of this edition, examines in an interview with Abigail Solomon-Godeau the visual language of feminism, from the representation of the "New Woman" to the presentation of the female subject in art. Especially the invention of the self-timer seems to have given artists the chance for new forms of interaction with the self, as two current exhibitions in the ACFNY and the MdM Salzburg illustrate.
Innumerable "selfie-girls", on the other hand, are really behaving in anti-feminist ways. And yet they seem always to value the display of the construction with the camera; arms lengthened by the perspective and mirrored cameras in the frame of the image let one suspect that most of it is sheer masquerade.
An entertaining time is the wish of your EIKON team with
Nela Eggenberger


Online Order >>>
Search the archive