EIKON #102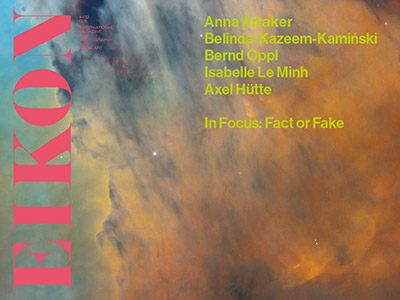 Artists | Anna Artaker | Axel Hütte | Belinda Kazeem-Kaminski | Isabelle Le Minh | Bernd Oppl | Tim Otto Roth |
Thomas Ballhausen | Philippe Batka | Katharina Brandl | Aïcha Diallo | Andrea Domesle | June Drevet | Nela Eggenberger | Daniela Hölzl | Ruth Horak | Peter Kunitzky | Maren Lübbke-Tidow | Lisa Moravec | Florian Rainer | Gudrun Ratzinger | Uta M. Reindl | Werner Rodlauer | Tim Otto Roth | Veronika Rudorfer | Rolf Sachsse | Walter Seidl | Steffen Siegel | Kerstin Stremmel | Margit Zuckriegl

Languages | German / English
Dimensions | 280 x 210 mm
ISBN | 978-3-902250-94-0
100 pages
Price: € 15,00 (incl. 10% VAT)
Online Order >>>
Content
PORTFOLIO
Anna Artaker | Thomas Ballhausen
Belinda Kazeem-Kamiński | Aïcha Diallo
Axel Hütte | Florian Rainer
Isabelle Le Minh | Ruth Horak
Bernd Oppl | Margit Zuckriegl

PROJECTS
Anita Witek — Maren Lübbke-Tidow

A WORK IN PROFILE

Martin Walde —Philippe Batka

ARTS & STUDIES
Toni Rippel-Stefanska — Veronika Rudorfer

IN FOCUS: Fact or Fake
A Conversation on Physics, the imagination and Magical Images — Tim Otto Roth
FORUM
In memoriam: Brian McKee — Werner Rodlauer
EXHIBITIONS
Jochen Lempert. Some Plants Volatiles | Walter Seidl
Luigi Ghirri. Map and Territory | Kerstin Stremmel
Cécile B. Evans. Amos' World: Episode One| June Drevet
Bouchra Khalili | Gudrun Ratzinger
Image Profile. Apects of the Documentary in MMK's Photography Collection | Steffen Siegel
Under Cover. A Secret of History of Cross-Dressers | Lisa Moravec
Martha Rosler & Hito Steyerl. War Games | Katharina Brandl

COLLECTOR'S BOOK
Paul Kranzler + Andrew Phelps. The Drake Equation
DATES
with Nadine Wietlisbach

PUBLICATIONS
Horáková + Maurer. TXP-INDEX | Daniela Hölzl
Witterungen. Landschaften und Lebenswelten von Laurenz Berges, Michael Collins, Paola De Pietri | Uta M. Reindl
Marianne Strobl. "Industrie-Photograph" 1894-1914 | Rolf Sachsse Mehr Frauen auf Bäumen | Peter Kunitzky
Slavko Kacunko. Theorien der Videokunst | Andrea Domesle
Power to the People. Politische Kunst Jetzt | Nela Eggenberger
Editorial
Ever since Postmodernism, an increasing "scepticism about metanarratives" (Jean-François Lyotard) has been evident, manifesting itself in a fully developed crisis of the subject and ultimately in the dwindling of unlimited faith in one truth. The effects of this upheaval in the self-image of absolute reality have continued into the present—moreover one might believe that the concept of authenticity was never in such doubt as it is today, when traditional media are defamed from the highest political level and their contributions are designated "fake news"; when a constantly growing public is putting its trust in the truth-content of opinions express on digital platforms; when statements are ripped from their original context, randomly applied to different situations and simply repeated—"shared"—so often that everyone has lost sight of the original source and they are accepted as given.
On the basis of these topical observations, the focus of the present issue also plays with these tendencies and confronts the discrepancy between scientifically proven facts and their interpretation. Under the heading "Fact or Fake," suggested and developed by Tim Otto Roth, this takes a variety of forms: for example in the way our guest has chosen for his contribution the philosopher Vilém Flusser, already deceased in 1991, as his "interlocutor"; or, further, in the way, as this fictitious conversation moves forward, the pair reveal the carefree decontextualization, recycling and reinterpretation of research results in artistic projects—and in doing so, they don't hesitate for a moment to demonstrate this by taking selected works of people recognized as major players in the contemporary art world.

With this in mind, we wish you an all the more refreshing journey into these and many other worlds of images in our summer edition, and we hope that you will go on not unreservedly believing us (and especially others)!
Nela Eggenberger
on behalf of EIKON, June 2018
Online Order >>>
Search the archive