EIKON #118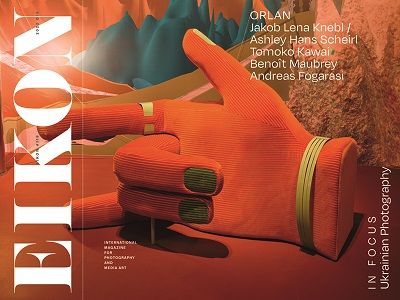 Artists | Andreas Fogarasi | Tomoko Kawai | Jakob Lena Knebl | Benoît Maubrey | ORLAN | Ashley Hans Scheirl |
Carl Aigner | Thomas Ballhausen | Anna Fliri | Arno Gisinger | Kathrin Heinrich | Frank Jödicke | Peter Kunitzky | Margit Mössmer | Christina Natlacen | Danièle Perrier | Kateryna Radchenko | Cosima Rainer | Uta M. Reindl | Veronika Rudorfer | Roland Schöny | Christine Schöpf | Walter Seidl | Bettina Spörr | Michael Stoeber | Andrea Winklbauer
Languages | German / English
Dimensions | 280 x 210 mm
ISBN | 978-3-904083-11-9
92 pages
Price: € 15,00 (incl. 10% VAT)
Online Order >>>
Content
PORTFOLIO
ORLAN | Danièle Perrier
Andreas Fogarasi | Karen Van Godtsenhoven
Tomoko Kawai | Walter Seidl
Benoît Maubrey | Frank Jödicke
Jakob Lena Knebl / Ashley Hans Scheirl | Andrea Winklbauer

PROJECTS
Nicolò Degiorgis. Farms. Flakes. Peaks | Anna Fliri

A WORK IN PROFILE

Karin Mack. Bügeltraum | Veronika Rudorfer

ARTS & STUDIES

A University Collection with Depth | Cosima Rainer

IN FOCUS: Ukrainian Photography

Invisible or in the Shadows? | Kateryna Radchenko

EXHIBITIONS

Dialoge im Wandel. Fotografien aus der Walther Collection | Uta M. Reindl
Mouse on Mars. Spatial Jitter | Roland Schöny
Herbert W. Franke. Visionär | Christine Schöpf
Facing Britain. Britische Dokumentarfotografie seit den 1960er Jahren | Michael Stoeber
Stano Filko. A Retrospective | Kathrin Heinrich
100 Jahre Oskar Werner. Mensch, Kunst, Mythos | Margit Mössmer

SCHEDULE

with Lucie Drdova

COLLECTOR'S EDITION

Matija Brumen: Galeb

PUBLICATIONS
Chuck Samuels. Becoming Photography | Christina Natlacen
Common Image | Thomas Ballhausen
Friedrich Danielis. Passing Through | Arno Gisinger
Stephan Gregory. Die kühle Kamera | Peter Kunitzky
Die Vernissage. Ritual und Inszenierung | Carl Aigner
Editorial
For the subjective well-being of our society, it would seem to be high time to once again allow a form of lightness—or at least to be allowed to develop a feeling that, in addition to all the horror reports currently being disseminated by the media, positive things are also still happening on this Earth. That the pandemic and its multiple health, psychological, social, and financial consequences—in addition to quietly resounding appeals to finally take far-reaching steps against climate change—are no longer the all-dominant topic of the news is apparently only due to the fact that, with Russia's invasion of Ukraine on February 24 of this year, an even more traumatic event with enormous global consequences has pushed itself to the fore.
However, apart from all the humanitarian and economic catastrophes that this conflict entails, the totalitarian regime's unjustifiable invasion of its immediate neighbor brings to mind one thing in particular: the power of images, especially the high impact of photography. The Russian warmonger obviously knows all too well the manipulative power of the visual medium and its potential for control through targeted mass distribution. The regime has always been skeptical of the free use of the camera; not least of all, far-reaching censorship has been a constant companion of its citizens since the founding of the Soviet Union, and its measures have radiated into the present of the Russian state.
Reason enough to invite Kateryna Radchenko, curator, artist, and founder of the Odesa Photo Days, as guest editor of this issue: "In Focus: Ukrainian Photography" traces the history of the medium in her homeland—at the same time, it is intended to sensitize our liberal Western society to the conditions under which photography was able to develop in a region, such as Eastern Europe, which is marked by numerous restrictions.
Nela Eggenberger
for EIKON, May 2022
Online Order >>>
Search the archive