EIKON #114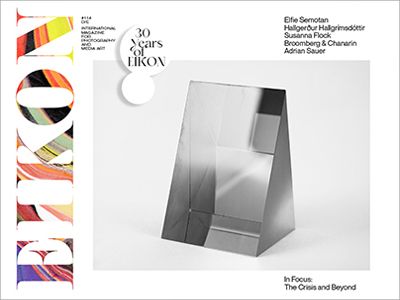 Artists | Broomberg & Chanarin | Susanna Flock | Hallgerður Hallgrímsdóttir | Adrian Sauer | Elfie Semotan |
Thomas Ballhausen | Simon Bowcock | Pia Draskovits | Nela Eggenberger | Carla Susanne Erdmann | Maximilian Geymüller | Elodie Grethen | Jana Johanna Haeckel | Sophie Haslinger | Nathalie Herschdorfer | Ruth Horak | Peter Kunitzky | Maren Lübbke-Tidow | Anja Manfredi | Danièle Perrier | Claus Philipp | Uta M. Reindl | Maria Rennhofer | Maria Schindelegger | Ferdinand Schmatz | Kathrin Schönegg | Walter Seidl | Claudia Slanar | Peter Weibel
Languages | German / English
Dimensions | 280 x 210 mm
ISBN | 978-3-904083-07-2
104 pages
Price: € 15,00 (incl. 10% VAT)
Online Order >>>
Content
PORTFOLIO
Broomberg & Chanarin | Jana Johanna Haeckel
Adrian Sauer | Ruth Horak
Elfie Semotan | Ferdinand Schmatz
Hallgerður Hallgrímsdóttir | Carla Susanne Erdmann
Susanna Flock | Pia Draskovits
ARTS & STUDIES
Suchart Wannaset | Maximilian Geymüller

IN FOCUS: The Crisis and Beyond
On the necessary step of digitalizing cultural institutions | Peter Weibel
Festivals and Fairs under COVID-19 Restrictions |Simon Bowcock
An Opportunity for Photography? | Maria Rennhofer
How Professional Life Has Changed | Elodie Grethen, Nathalie Herschdorfer, Anja Manfredi, Kathrin Schönegg

EXHIBITIONS

Barbara Probst. Streets, Fashion, Nudes, Still Lifes | Maren Lübbke-Tidow
Looking at the Sun at Midnight | Maria Schindelegger
Europe: Ancient Future | Walter Seidl
Barbara Hammer. Women I Love | Claudia Slanar
Timm Rautert and the Lives of Photography | Uta M. Reindl
The Use of Landscape | Sophie Haslinger

SCHEDULE
with Kerstin Stremmel

COLLECTOR'S EDITION

Noémie Goudal—Soulèvements

PUBLICATIONS
Christian Kosmas Mayer. The Book of Record of the Palm Capsule | Nela Eggenberger
Bert Rebhandl: Jean-Luc Godard. Der permanente Revolutionär | Peter Kunitzky
Inventar der Gegend. Ditz Fejer, Maria Gstättner, Angelika Reitzer | Claus Philipp
Anna Artaker/Meike S. Gleim: Atlas of Arcadia | Thomas Ballhausen
Lois Weinberger | Pia Draskovits
Jürgen Claus | Danièle Perrier
Editorial
"A crisis is never something positive. First of all, you have to deal with all these negative things that are happening," Max Hollein explained in an online discussion on the subject of how museums operate in times of permanent planning uncertainty (1). The fact that the current challenging situation is forcing cultural professionals to question processes, optimize communication with the outside world, or simply adapt to completely new formats also brings an enormous potential to light. On the one hand, the author of these lines has benefited not least of all from the unprecedented surge in digitization and the large amount of content now available on the Internet, which enabled her to view the live-stream of the "Sprengel Talk," from which the quote above was derived (2). On the other hand, everyone interested in art truly misses a spontaneous visit to an exhibition without prior Corona tests and masks (although one has to be glad if the current situation allows museums to be open to visitors at all).
Just as people are divided over how to deal with the pandemic, in the field of art and culture there seem to be widely differing perceptions of the profound upheavals brought about by the shift to virtual space. After more than a year of the COVID crisis with all its side effects, it was time for EIKON to take stock with "In Focus: The Crisis and Beyond." Seven protagonists from the fields of new media and photography were thus interviewed about their observations, experiences, and approaches to solutions. Their answers differ, are at times even contradictory, and were edited on the basis of three parts subordinate to the present focus. Like the pandemic, the development of new approaches is probably far from over—and it is once again clear that this crisis does not affect everyone equally. What is already apparent, however, is that some of the new hybrid programs will in any event continue. The rest remains up in the air.
Nela Eggenberger
for EIKON, June 2021
(1) The Sprengel Talk "We will come out of this as a changed institution" between Max Hollein, Director of The Metropolitan Museum of Art, New York, and Reinhard Spieler, Director of the Sprengel Museum Hannover, was streamed live via Zoom on March 24, 2021 and is still available on the Sprengel Museum's website.
(2) Hollein's observation regarding the extent to which symposia in particular can benefit from being moved online is also interesting.
Online Order >>>
Search the archive